EDIT MAIN
Lunch Menu/Meal Program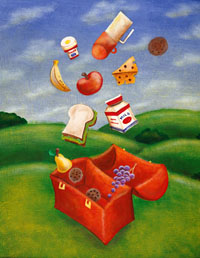 Menus:
Meal Prices:
Lunch Prices
Breakfast
$1.85 per day
Cafeteria opens at 7:40 a.m.
Adult $2.50

K-6

$2.50 per day
HS/JrHi
$3.00 per day
Adult
$3.75 per day

Milk
$ .40 per milk

Household application for free or reduced price meals (external link)
Cost Schedule for Breakfast and Lunch by the Month (Word)
Online Account Pay (external link)
Cafeteria Staff
Head Cook - Tanya Corta
Asst. Cook - Bobbie Schwabauer
Asst. Cook - Michelle Miles
Cafeteria Program
Our district participates in the Federal and State Surplus Commodities program which requires two balanced meals with minimum standards of nutrition. Our school takes part in the "Offer vs. Serve" program, which requires each student to choose at least three of the food items offered to them. We do try to encourage the students to eat all they have chosen. If there are certain foods which your child is not allowed to eat, please have your doctor send the list to school.
School lunches are not served on Fridays. Breakfast is served every day school is in session. The cafeteria opens at 7:40 a.m. for those wishing to eat. The cost of breakfast is $1.85 per day.
Milk is available for children who bring their lunch and is served with each hot lunch and breakfast. Parents are welcome to eat with their children when visiting the school. Please call the office ahead of your visit at 534-2311.
Lunch and/or breakfast money is collected at the elementary and high school offices. Advance purchase of meals is strongly encouraged and can be made through the online link above. A charge account for students paying for meals may be established with the district. However, students may charge no more than $10. Weekly email notifications of account balances will be sent those participating in the online payment program. A phone call will be made to parents if account balances exceed the $10 per student charge limit. Any past due accounts will be turned over to collection agency.
STUDENTS ARE NOT ALLOWED TO BE IN THE KITCHEN AREA UNLESS OTHERWISE APPROVED BY THE BUILDING PRINCIPAL.
USDA and this institution are equal opportunity providers and employers.